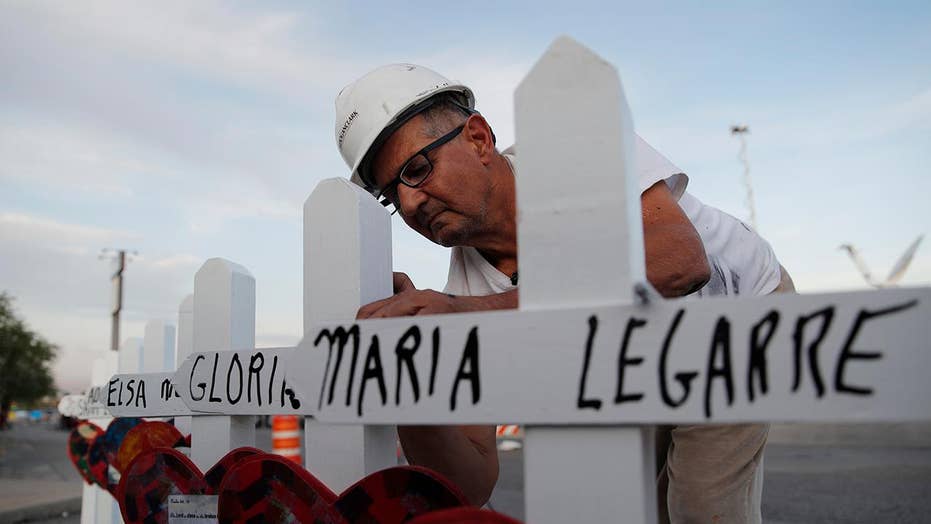 Greg Zanis prepares crosses to place at a makeshift memorial for victims of a mass shooting at a shopping complex Monday, Aug. 5, 2019, in El Paso, Texas. (AP Photo/John Locher)
From his home in Illinois, Zanis drove two days to El Paso, where he spent several hours on Monday putting crosses together at a makeshift memorial to the shooting victims. The white crosses featured the names of those killed and heart-shaped displays.
He will soon head to Dayton to do much the same thing for more of the fallen, and for their kin.
"I just feel it's so important to be here for the families," Zanis told Fox News. "Were talking about the gunman, but today it's going to change, we're going to start talking about the families and the victims."
=========================================
=========================================
EL PASO MAYOR DEE MARGO 'GEARING UP FOR 20 FUNERALS,' WANTS TO 'BRING OUR CITY TOGETHER'
"You see I had to look and see what city I'm in," Zanis said, referring to how common major acts of violence have become across the U.S. "No sooner than I take off … now I have to go to Ohio."
Original Article : HERE ;
=========================================
=========================================